Gilgunnia Cluster - The largest Cluster Exclusion Fence
The Problem
Over the past decade the sheep industry in Queensland was almost destroyed by an influx of wild dogs. Property owners at Gilgunnia, New South Wales did not want the same fate that many farmers in Queensland are now experiencing. They united and begin organising cluster fencing before wild dogs made it to their properties.
Mr Hague, a property owner in Gilgunnia runs a mixed cropping and livestock operation, comprising of 5,000 hectares of crop, 8,000 Merino ewes and 500 head of Santa Gertrudis. Many properties were already experiencing losses from pigs, kangaroos and goats. It was estimated that approximately 30 per cent of lambs were being lost each year. Mr Hague mentioned that wild dogs are not currently in the area, however they are already experiencing huge losses.
Mr Hague said "Our initial reason for putting up the fence was to get in before the impact of the dogs could be felt -there would be no point fencing after the dogs arrived. The extent of the loss would certainly increase when dogs arrive in the area".
The Solution
History was made when the largest cluster exclusion fence in the state was installed between Condobolin and Cobar in western New South Wales in early 2017. The Gilgunnia Cluster Group was instigated two years ago when 22 landholders recognised the positive impact large scale exclusion fences were having in Queensland.
To act on their concerns and take steps to counter potential wild dog issues, the Group erected a Waratah exclusion fence.  The fence stretches 210 kilometres and encompasses 177,000 hectares of grazing and farming country. Waratah Longlife wire was used to ensure the longevity of the fence, an apron was also used, this prevents pests from burrowing underneath the fence. A single line of barbed wire was used along the top of the fence, this was to deter pressures coming from kangaroos.
Advice for Farmers, from farmers
"Due to the dry conditions of the area, myself and other landholders in the cluster have found that the fence has helped maintain pastures in dry conditions with the fence also keeping out other pests," Hague said.
"If the fence wasn't here, the roos and goats would have stripped the place bare and we would have to hand feed our stock. But with the fence here now, there is still enough pasture to feed our stock"
"Controlling grazing pressure is one of the biggest issues for landholders in the Western region and I would encourage all landholders and landholder groups interested in finding out more about cluster fences to contact their nearest fencing representative."
Location
Gilgunnia, New South Wales
Australia
View more
Products used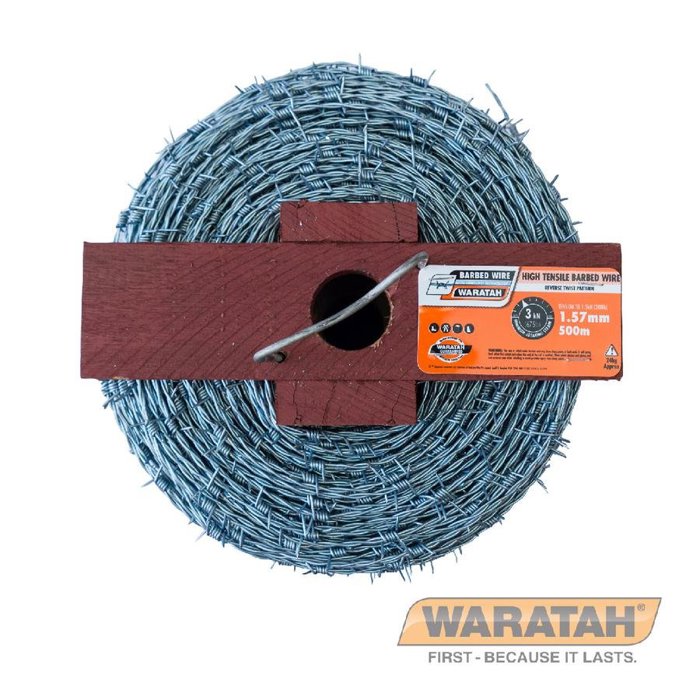 (none)
Barbed Wire
High Tensile Barbed Wire Longlife Blue®