Near miss with cheap fencing materials
The Problem
A recent 'near miss' while working hundreds of kilometres from help has highlighted the importance of using quality products, for farmer and fencing contractor Neil White.
As well as running Brahman cross Shorthorn cattle on their 450,000 hectare station in the Goldfields region of Western Australia, Mr White, his brother Ryan and their mother Sharon build fences for mining tenements, local councils and other pastoralists.
Mr White said some clients insist on using cheap fencing material, but that can cause potentially serious issues.
"On one occasion we were contracted to do a job using imported barbed wire, which ended up being riddled with problems," he said.
"There were missing barbs, the barbs slid up and down along the wire, and there were broken strands too."
Mr White recounts how bad it could have been, as he was straining 400 metres of this cheap barbed wire, when suddenly the roll snapped and sling-shotted back towards him at full force.
"I was extremely lucky. If that wire had wrapped around me at that speed, I could have been in serious trouble!" he said.
"For the sake of a few dollars, you can't risk snapping the roll. I could have been seriously injured or even killed.
"At times we're working 100 kilometres from the homestead and what's worse, we are hundreds of kilometres from any emergency services."
The Solution
Following this near miss, Mr White now urges farmers and fencing contractors to consider using quality Australian products like Waratah's range when they tackle their next fencing job.
Over the past four years the White team has put down 70km of Waratah fence on their own property using a combination of Longlife® High Tensile Barbed wire and Jio® posts.
"We're operating in such a harsh environment that not everything can handle the conditions," Mr White said.
"The cap rock is very hard and most imports simply won't drive in – they snap and shear off. The ground around the salt lakes is also quite corrosive, so we need products that can stand up to that for as long as possible.
"We've used a lot of Waratah's materials in the past, and we'll continue to do so in the future, because they are the best in the business.
"We need the best. We want to keep ourselves and our cattle safe."
Location
Brahman, Western Australia
Australia
View more
Products used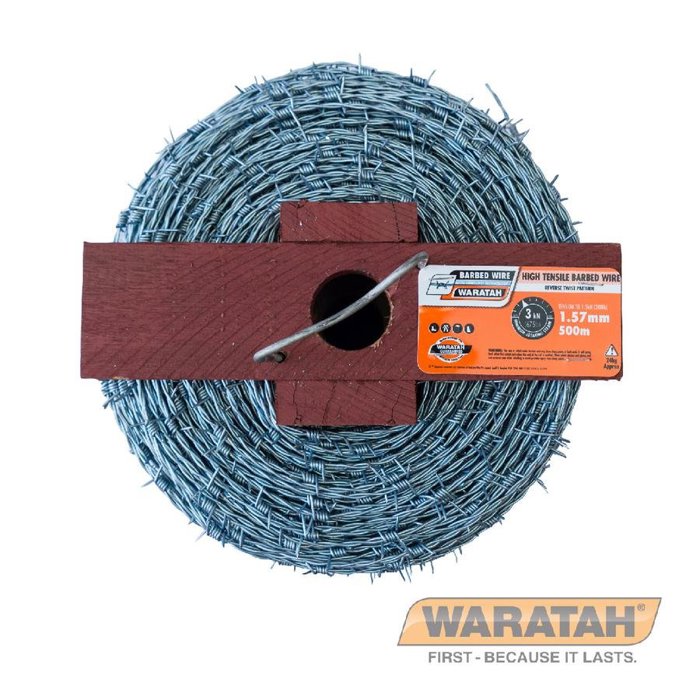 (none)
Barbed Wire
High Tensile Barbed Wire Longlife Blue®